Audio:
Songs From An American Movie Vol I:
Leaning How to Smile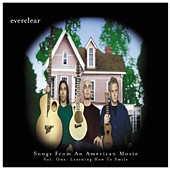 If you want to hear the song right click on the song you want to hear and then go to properties. Then copy the link. Then open your Real Player and go to file link locations and past it, then enter.
(Real Player Needed, download the newest version here)
1.Songs From An American Movie
3.AM Radio
11.Wonderful