Everclear_007 is giving away 2 Everclear buttons!!!!!!!
1st button is the "Learning How to Smile Button" ---(Sad face)
picture not available
The 1st button will be, a round yellow sad face, with letters around it saying "Everclear" on top of the button, and on the bottom of the circle it says "Learning How to Smile"
2nd button is the "Good Time for a Bad Attitude Button"---(Happy Face)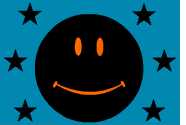 This is what 2nd buttons is going to look like.... This not the actual button's picture!
Contest ends:7/26/01
How to Enter:
1. Email me your Name or Screen. My email address is Everclear_007@yahoo.com
2. When you email me your name, on the subject line put "Everclear_007 contest"
3 On 7/26 i will write your names on papers and put it in a bucket and draw it out. There will be 2 winners