July 30, 01


¤7/29-ALRIGHT MY SITE SUCKS REALLY BAD RIGHT NOW!!! BUT HEY I M HAPPY CUZ I SAW EVERCLEAR!!!! IT kicked ass.. .. this site will be back i will have small updates on news so keep checking it out. but NEW LOOK IS COMMING FUCK FLASH !!! lol later
¤7/21-ONE MORE DAY TILL I SEE EVERCLEAR!!! I M EXCITED..... July 22 Louisville show!! If your trying to look for me. I m the hot,tanned,spikie hair kid..... DAVEY YOU KICK ASS !!!!!
ºEverclear is at Dalton, GA tonight..
¤7/16- My contest thing sucks... lets just say its a give away so enter to win the 2 everclear buttons.
¤7/12- My flash intro sucks... Have any show reviews send them to me i'll post them.
¤7/8- YOU KNOW WHAT??? I got something pretty cool. I have the bra that was thrown on stage during the Wichita, KS show. Although that the bra was from a HOTTTT GIRL, but the kewl part was that Craig rubbed it against his BALLS.. So ladies send me money if you want it lol!!
ºWant to win an Everclear button? Everclear_007 is giving away 2 Everclear buttons click here to enter the contest !
º Do you want to send an Everclear email greeting? If you do i got a link for you! Click here if you want to send a greeting to a friend/or loved one. This Everclear greeting is pretty sweet! It plays music when you open it and plus it comes with a game called Everclear Concentration, Very FUN! ( Thanks NICOLE <3 )
º GRRR the new site will be delayed since flash is being a butt. sorry! but i do have a concert review for you though from the wichita show..... ( click here to see it )
¤7/3- New Flash intro uploaded check it out!!!
¤ 7/4-This site is ready to be all flash like the KICK ASS official Everclear site. (www.everclearonline.com)
¤ 6/30-Its almost done. its going to be the shit!!!!
¤6/19- sorry fans of my site.i haven't updated since i m re-doing the site sorry!!!
¤5/21-New Tourdates added
¤5/12-I m so sorry UK Everclear fans! Bad news has just came in that Everclear canceled the upcoming tour dates up in the UK. I think you can refund you tickets, at the place you bought them. I m sorry, and Everclear is very sorry! It wasn't their fault it was Capitol Records.
¤4/28-Everclear will be on "Bands,Brawn, and Blister." I think it's kind of like a Survivor, but a little different. Everclear task is something that has to do with cattle drive. YEEHA
º It was Arts (April 12) and Greg (April 18) birthday this month! So Happy Birthday you guys! Art, is 39, Greg turns 31.
º I m so sorry for not updating in a long time. I promise to update more! Pls. keep still checking out my site. ( a word from Everclear_007 Randy Singh)
¤4/9- Everclear's next single from Learning How To Smile is "Brown Eyed Girl" ** The next single from Good Time for a Bad Attitude is "Rock Start" & an alternative mix of "Out of My depth"
º Everclearonline says that Vol. 1 will be released shortly with two bonus tracks.
º Everclear AM Radio could win "Best Comedic Video" on VH1, but you have to vote for them to win. ( VOTE )
¤3/10-"Everclear will pick up where Blink-182 leaves off on second leg of the Honda Civic Tour 2001 in June" Click here to Learn more.
¤7/30- Everclear will be on VH1's Before They Rock Stars on Aug 1.

º Everclear's AM Radio will be on VH1's Pop Up Video on Aug 2.

¤7-1- . Comedy Central will rerun the Saturday Night Live with Everclear's Santa Monica performance on July 16 @ 6:00 PM EST

º Everclear will be on MTV Cribs,VH1's Before They Were Rock Stars and also Bands,Brawn and Blisters later in the year.

¤6/28- Everclear's "Brown Eyed Girl" is now playing on MTV, MuchMusic and VH1

¤5/21- Added new tourdates, so check if they come near you.

¤5/3-This is old news to some maybe, but "Brown Eyed Girl" is now playing on the Radio Air Waves. Check out Everclearonline for more excluisve downloads!!

¤5/12- This message is from the everLIST, you can join the everLIST @ www.everclearonline.com

"Be among the first to purchase tickets for Everclear's epic summer Civic Tour performances! An exclusive online ticket presale will take place at 10:00 a.m. on May 15, 2001 and run until 10:00 p.m. on May 18 (local time). Go to http://www.civictour.com/evercleartour to link to the presale site, and type in the password: civictour. Tickets for these shows will be on sale to the general public on May 19 but you'll get a 4 day leg-up! "

¤5-3- Honda Civic tour dates updated, check if Everclear comes to a town near YOU!

¤4-28- Everclear's lead singer, Art Alexakis will be on the May issue of Metal Edge.

¤3-29- "You can hear the Everclear on the NOW CD" Everclear's AM Radio will be on NOW! Thats What I Call Music Vol. 6

¤1/29- WIN 2 Everclear tickets, click here to find out more!
Songs From An American Movie Vol. Two:
Good Time For A Bad Attitude
This Album Kicks Ass
Current Single
"Out of Depth"
"Rock Start" Coming Soon..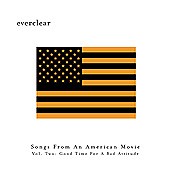 Songs From An American Movie Vol. One:
Learning How To Smilie

This Album is AWESOME!
Current Single
"Brown Eyed Girl"
Sign My Guestbook
View My Guestbook
Want Your Banner Here or Something E-mail, Randy (Thai's Me)